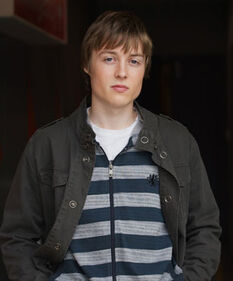 Evan is the sixteen year old son of
Wendy
and
Murray
Cooper and the only brother of
Bella
and
Jasmine
. Even has trouble sticking to the rules and tends to get into trouble quite a bit.
Evan finds himself with a crush on Maxwell Avia and Vusa Levi's daughter Ula. Evan tries extremely hard to get her attention, but she is completely oblivious to what he is trying to do. But does pretend to be the father of Ula's baby when she is pregnant.
Evan knows all about his parents financial problems and keeps trying to come up with different idea's in order to become rich. But at the moment none of these schemes have worked.
Ad blocker interference detected!
Wikia is a free-to-use site that makes money from advertising. We have a modified experience for viewers using ad blockers

Wikia is not accessible if you've made further modifications. Remove the custom ad blocker rule(s) and the page will load as expected.